Custom Rods in Huntington Beach, CA
Are you ready for your first custom rod? When it comes to making custom rods for folks in the Huntington Beach, CA area, those in the know turn to Fishermen's Hardware. Our custom fishing rods are built to your specifications. We work very closely with our customers throughout the entire design phase. We want you to have the rod of your dreams!
It doesn't matter what type of fish you're after, we can help you build the right rod that will serve you right. Whether you are angling in freshwater or saltwater, we will help you create the best rod for your needs. Owning a custom rod can really elevate your fishing experience. With a rod that has been built exactly to your specifications, you will have an amazing day out on the water, whether you are fishing in freshwater or saltwater.
Give us a call or stop by today and let us get started on helping you create the rod of your dreams. Once you experience fishing with a custom rod, you'll never want to go back to your mass-produced rod. Our team of craftsmen will create your custom rod with the color, design, and size that you want. We offer free quotes, so call today.
About Our Custom Fishing Rods
We have been providing local fishermen and women with all the gear, tackle, and supplies they need for over 26 years! During this time, we've also made countless custom rods, and repaired too many rods and reels to keep track of! We are conveniently located, have many essential items in stock, and are ready to go with your rod repair service and more.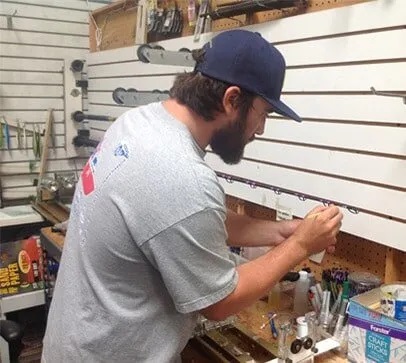 Here To Help You
The Fishermen's Hardware team is dedicated to customer service, and we are here to help! Because we have been established in the area for so long, we all have a knowledge base that will knock your socks off! Did you know that, collectively, our team has over 100 years of fishing experience?
Even better than that, we are a friendly bunch! We want our customers to have an amazing experience. No matter what your skill level may be, we will get you outfitted and ready to go! We want everyone to experience the joy of fishing, just like we do.
Stop By Our Store
Fishermen's Hardware is located at 16942 Gothard St. Ste. B, Huntington Beach, CA 92647 stop by today!
Or, give us a call at (714) 841-6878.